https://www.theguardian.com/environment/2017/jun/27/ozone-hole-recovery-threatened-by-rise-of-paint-stripper-chemical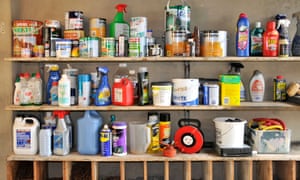 The restoration of the globe's protective shield of ozone will be delayed by decades if fast-rising emissions of a chemical used in paint stripper are not curbed, new research has revealed.
Atmospheric levels of the chemical have doubled in the last decade and its use is not restricted by the Montreal protocol that successfully outlawed the CFCs mainly responsible for the ozone hole. The ozone-destroying chemical is called dichloromethane and is also used as an industrial solvent, an aerosol spray propellant and a blowing agent for polyurethane foams. Little is known about where it is leaking from or why emissions have risen so rapidly.
The loss of ozone was discovered in the 1980s and is greatest over Antarctica. But Ryan Hossaini, at Lancaster University in the UK and who led the new work, said: "It is important to remember that ozone depletion is a global phenomenon, and that while the peak depletion occurred over a decade ago, it is a persistent environmental problem and the track to recovery is expected to be a long and bumpy one."
"Ozone shields us from harmful levels of UV radiation that would otherwise be detrimental to human, animal and plant health," he said.
The new research, published in the journal Nature Communications, analysed the level of dichloromethane in the atmosphere and found it rose by 8% a year between 2004 and 2014. The scientists then used sophisticated computer models to find that, if this continues, the recovery of the ozone layer would be delayed by 30 years, until about 2090.
The chemical was not included in the 1987 Montreal protocol because it breaks down relatively quickly in the atmosphere, usually within six months, and had not therefore been expected to build up. In contrast, CFCs persist for decades or even centuries.
But the short lifespan of dichloromethane does mean that action to cut its emissions would have rapid benefits. "If policies were put in place to limit its production, then this gas could be flushed out of the atmosphere relatively quickly," said Hossaini.
If the dichloromethane in the atmosphere was held at today's level, the recovery of the ozone level would only be delayed by five years, the scientists found. There was a surge in emissions in the period 2012-14 and if growth rate continues at that very high rate, the ozone recovery would be postponed indefinitely, but Hosseini said this extreme scenario is unlikely: "Our results still show the ozone hole will recover."
Grant Allen, an atmospheric physicist at the University of Manchester, said: "Whatever the source of this gas, we must act now to stop its release to the atmosphere in order to prevent undoing over 30 years of exemplary science and policy work which has undoubtedly saved many lives."
Jonathan Shanklin, one of the scientists at the British Antarctic Survey (BAS) who discovered the ozone hole in 1985, said: "The Montreal protocol has proved very effective at reducing the emissions of substances that can harm the ozone layer. I am sure that the warning made in this paper will be heeded and that dichloromethane will be brought within the protocol in order to prevent further damage to the ozone layer."
There are other short-lived gases containing the chlorine that destroys ozone, but few measurements have been taken of their levels in the atmosphere. "Unfortunately there is no long-term record of these, only sporadic data, but these do indicate they are a potentially significant source of chlorine in the atmosphere," said Hossaini, adding that further research on this was needed.
Anna Jones, a scientist at BAS, said: "The new results underline the critical importance of long-term observations of ozone-depleting gases and expanding the Montreal protocol to mitigate new threats to the ozone layer."
Overall the Montreal protocol is seen as very successful in cutting ozone losses, with estimates indicating that without the protocol the Antarctic ozone hole would have been 40% larger by 2013. Scientists discovered four "rogue" CFCs in 2014 that were increasing in concentration in the atmosphere and contributing to ozone-destruction.
Since you're here …
… we have a small favour to ask. More people are reading the Guardian than ever but advertising revenues across the media are falling fast. And unlike many news organisations, we haven't put up a paywall – we want to keep our journalism as open as we can. So you can see why we need to ask for your help. The Guardian's independent, investigative journalism takes a lot of time, money and hard work to produce. But we do it because we believe our perspective matters – because it might well be your perspective, too.
I appreciate there not being a paywall: it is more democratic for the media to be available for all and not a commodity to be purchased by a few. I'm happy to make a contribution so others with less means still have access to information.Thomasine F-R.
If everyone who reads our reporting, who likes it, helps to support it, our future would be much more secure.